Herzlich willkommen im Zeichen des Holstentores!
Drum Method Vol. I • (English Edition)
For ambitious beginners
by Andreas Schwarz
Play the drums and have FUN doing it!
64 detailed exercises
199 grooves in a variety of styles
272 snare and tom patterns (fill-ins)
86 solos for drumset and snare
13 duets for drumset and snare
Extra website to accompany the book: contains a little drummer's encyclopedia, song downloads, photos and much more. Look at schule.hansepercussion.de (sorry, only German)
Intended for right AND left handed players, boys AND girls, youngsters AND adults
Learning step-by-step: all sequences are logically based one on another and have been extensively tested.
combined with volume II this is a comprehensive drumming instruction covering all relevant themes - for the beginner and the professional!
Order Nr. HPS40080 • ISBN 9783981357523
24 EURO • Distributors welcome!

Oder Kaufen Sie per Email, dann lassen wir Ihnen die Zahlungsinformationen zukommen: info@hansepercussion.de – Vielen Dank!
Sample pages
Below you may listen to some samples from the CD.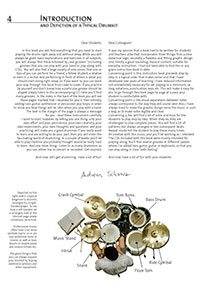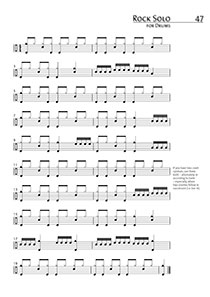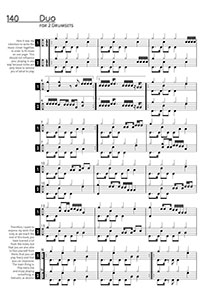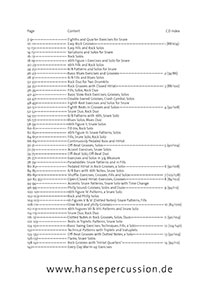 Please click the thumbs to get larger samples.
Sound samples
Here you may listen to some samples from the audio CD.
Here you'll find some samples from the new (German) edition 2.0. To get an idea what that brings you for learning, please click the audio samples or go to
schule.hansepercussion.de
(sorry, that is a German website). These samples are corresponding to the sample pages (above).
P. 47 • 064 bpm
P. 47 • 088 bpm

P. 69 • 064 bpm

P. 69 • 088 bpm

P. 140/141 komplett • 072 bpm

P. 140/141 komplett • 096 bpm

P. 140/141 Stimme 1 • 072 bpm

P. 140/141 Stimme 1 • 096 bpm

P. 140/141 Stimme 2 • 072 bpm

P. 140/141 Stimme 1 • 096 bpm